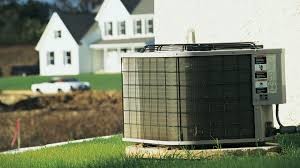 With today's constantly rising energy costs, having improperly sealed windows, inadequate ductwork, and poor insulation can pose serious problems for many home and business in South Jersey. Fast Response Plumbing, LLC provides complete HVAC system servicing.
Whether you need air conditioning replacement for a single unit or an entire office building, our highly trained and experienced contractors can provide the speedy and high-quality service you deserve. We provide all HVAC services including maintenance and repair, sales, and installation. Our skilled technicians can guide you on how to reduce your energy costs. Call us today for more information or to schedule an estimate.
We offer many brands for HVAC's and boilers. Here are some of our main brands:
Air Conditioning Repair and Replacements
No one wants to have a hot and humid house. Whether you have a small problem or a big, problem you can count on our courteous technicians to provide you with exceptional AC repair service—24/7. All of our technicians at least seven years of experience. With Fast Response Plumbing, LLC you can depend on an experienced air conditioning service professional to determine the extent of repairs needed.
We offer comprehensive repair and replacement services for:
Gas Boilers – Hot water & Steam
Oil Boilers – Hot water & Steam
Gas Furnaces
Oil Furnaces
Central Air Conditioning Systems
High Velocity Air Conditioning Systems
Gas Room Heaters
Humidifiers
Indoor Air Quality Systems
Air Conditioning Installation
If your system is older, you may be able to cut your utility costs and increase your system's efficiency with a new, energy-efficient air conditioning and heating system. Fast Response Plumbing, LLC will help you choose the most beneficial unit for your for your property. There are many options to choose from, so let us provide you with a Free Estimate and get you on the path to a cool summer. We also install mini-split systems. Check out the blog on why mini-split systems can be beneficial  for your home.
Air Conditioning Maintenance
Just like anything else in your home, your air conditioner will last a lot longer if you keep it maintained properly. Your cooling and heating system is a major investment for your home and your comfort. After years of experience, we strongly recommend having your air conditioning system inspected and preventative maintenance performed each season to keep your system running right all year round. Check out our blog on why it is beneficial to maintain your system.
To make sure your house stays cool, you need your yearly AC tune up! Fast Response Plumbing offers affordable and professional tune up services.
The service includes:
Monitor thermostat operation
Clean filters as needed
Inspect blower wheel & motor bearings
Inspect blower mount
Inspect wiring insulation
tighten electrical connections
Vacuum inside of air handler cabinet
Verify condensate pump operation (if used)
Verify float switch operation
Blower Motor Amperage
Heat Strip Amperage
Evaporator temperature drop
Inspect fan motor mount
Tighten fan motor mount set screws
Inspect fan blade & motor bearings
Clean condenser coil and remove debris
Inspect contractor points
Test refrigerant fittings for leakage
Inspect mounting pad & tie-downs
Compressor Amperage
Inspect for mold & Mildew
Inspect air filters
Inspect indoor air quality equipment
Why Should You Call Fast Response Plumbing?
Our Name Says It All! We offer timely service, schedule appoints, and provide courtesy calls when the technician is on his way so client doesn't have to wait all day.
Emergency Maintenance: We offer service 7 days a week. When clients call they will always speak to someone one on staff and not an answering service.
Experienced Technicians: We encourage and schedule our techs to take continuing education courses and remain up to date with products and techniques. We encourage our techs to obtain as many field certifications as possible.
Up Front Pricing: We price according to job and not time so clients are aware of the cost at all times. Keeping in mind that unforeseen conditions might happen and change cost.
Plumbing Services Guaranteed: Most plumbing services and installations are guaranteed for 1 year unless otherwise stated.
Respectful, Friendly, and Courteous Plumbing Technicians: We make sure that every one of our plumbing technicians wear shoe covers and lay down drop cloths for every plumbing service. They will treat your home as if it were their own.
We Will Arrive in Uniform: Every one of our plumbing technicians takes pride in their appearance and will show up to your scheduled plumbing service appointment dressed appropriately. We wear steel toe boots, company shirts, and safety equipment.
Trustworthy Plumbing Technicians with Proper Credentials: Our plumbers are subjected to a background check and are drug tested frequently. We check driver licenses every 6 months
Customer Satisfaction: If you are not completely satisfied with our plumbing services, we are prepared to do our best to make it right.
We Proudly Serve The Following Southern New Jersey Counties:
Schedule your appointment today!