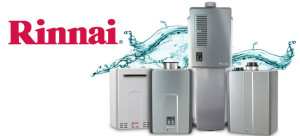 Rinnai is number #1 in selling tankless water heaters. Throughout the world, their standards for quality remain unsurpassed. All Rinnai factories are ISO 9001 and/or ISO 14001 certified. Rinnai America is one of the few tankless water heater manufacturers with its own state-of-the-art CSA Certified Testing Laboratory, including CSA accredited lab technicians. All our products have been approved by the Canada Standards Association (CSA) and adhere to the strict standards of the American National Standards Institute (ANSI).
Rinnai offers commercial and residential water heaters. Rinnai Tankless Water Heaters efficient operation can also contribute to a favorable HERS rating and optimize LEED certification.
On top of efficiency for Rinnai their tankless water heaters feature a copper heat exchanger for unparalleled quality, durability and safety. And they have a compact design that offers substantial space savings in the home.