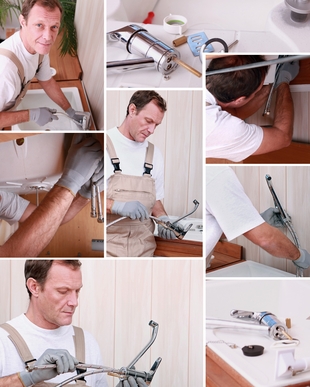 Every single plumbing company is supposed to tell customers that they're the best, cheapest, and most reliable whether it's true or not. Don't let anyone trick you into sub-par, sloppy service with a flashy gimmick. True, it's safer than a do-it-yourself quick fix that will end up in a total disaster, but anyone with common sense knows to leave plumbing to a professional. You're allowed to hire the contractor that exceeds your personal expectations and gives you confidence in their services.
Experience
Every professional plumber will proudly tell you about their major jobs, years in the business, education, and provide solid references. Wouldn't you be happy to brag to their potential clients after receiving exceptional service in your home? It doesn't necessarily mean that a novice will do a poor job, but there is a greater level of reassurance knowing a local plumber is familiar with all types of issues.
Insurance
The most skilled professional plumber may run into a rare complication once in a while that they were not prepared for. Always ask if they are insured to cover yourself if you're that unlucky customer that ends up with a major problem. If not, you'll be left to deal with the damage and expense even though it was not your fault.
Licensing
If you live in a state that a local plumber is required to have a license, do not hesitate to ask for proof. Any random handyman can advertise their service, but you should only hire someone with the right training and education.
Price
A great special when calling an emergency plumber for repairs is a trick to get new clients interested. Ask for a written estimate on any work you need done, and find out specifically about their policy on additional fees. Don't immediately jump at the lowest price either, there is often a reason for a major price difference.
Warranty/ Guarantee
Every reputable company will gladly stand by their products and services with some type of guarantee. Find out before hiring someone how long their work is guaranteed for so that you don't end up paying an emergency plumber to fix their mistakes a few days later.
Visit our contact form to schedule an appointment and to find out why we have so many happy clients. We are not afraid to answer your tough interview questions, in fact, we encourage you to give us a call today at (856) 430-8452