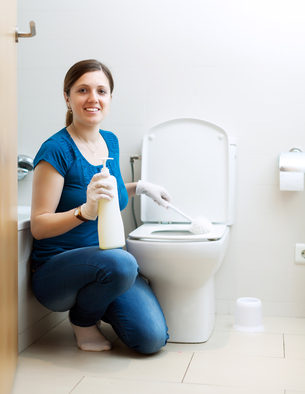 Did you know that toilets account for thirty percent of your household water usage? The average person flushes about five times per day. Models that were installed before the new federal plumbing standard in 1992 (which says they cannot be more than 1.6 gallons per flush) were generally 3.5 to 5 and even up to 7 gallons per flush. That is 6,388 to 12,775 gallons of water per year, per person. That is enough water to fill an average in-ground swimming pool.
What Are High Efficiency Toilets (HET's)?
A HET uses very little amount of water per flush. They also feature a dual flush, which gives you the option to use half the amount of water in a flush. This is great for times when you do not need a full flush and saves hundreds, even thousands. Not to mention it conserves a great deal of water. Federal plumbing standards now require that the toilet cannot be any more than 1.6 gallons per flush. HET's use no more than 1.28 gallons per flush. This greatly affects your household's water usage.
If you do not know when the last time you got a new toilet was, you may need a replacement. Fast Response Plumbing serves all of South Jersey and offers a fast and professional toilet replacement. They have a 24/7 hotline available to you to help you with all your emergency needs. You can call them to request more information, however, it is recommended that you fill out a contact form. The will respond in a timely fashion and provide you with the proper quotes and information that you need.
Fast Response Plumbing has competitive pricing along with the best customer service in the business. They have received many great testimonials from satisfied customers and also offer plumbing, heating, drain cleaning and emergency maintenance services. Start saving money on your water bill today with a HET from Fast Response Plumbing! Fill out the contact form on our website at and receive a fast quote to get started today!